Tag Archives:
5k training plan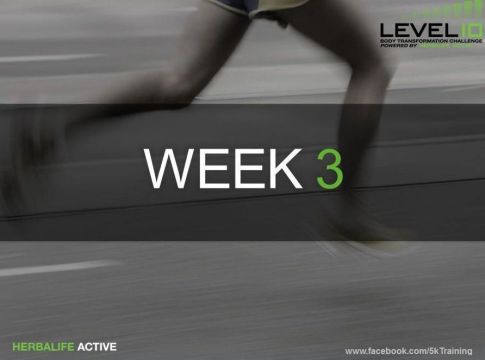 KEY TRAINING CONCEPTS
INCREASED RUN LENGTH
Running a 5K requires you to be able to cover 3.1 miles on your feet.
Runs will gradually increase in length to build you up to this distance.
INTERVAL TRAINING:  BODY AND MIND
Runners doing the advanced plans start to see intervals in Week 3.
This trains the body to sustain higher workloads for longer.
Interval training also helps train the mind to deal with higher intensity effort.
Interval training enhances the bodys lactic acid threshold.
Now is the time to run hard when prescribed, and rest when prescribed.
WEEK 3 NUTRITIONAL TOPICS
Both carbohydrate and protein play a key role in recovery.
Timing of recovery nutrition is key to maximizing muscle repair.
Skipping post-workout recovery is not a way to increase fat loss / weight loss.
PROTEIN
While working out, muscles experience damage and breakdown.
Protein helps repair and rebuild damaged muscle.
Athletes have higher protein needs than the average person.
Protein keeps you full so you dont reach for comvenience foods after exercise.
AMINO ACIDS
Amino acids are individual units that make up proteins.
Essential amino acids must be consumed through our diet for proper body function.
Herbalife24 Rebuild Strength and Rebuild Endurance contain essential amino acids.
Target about 1-2 g of protein per kg of body weight per day – that's 75-150 g of protein for a 150 lb person per day.
POST-WORKOUT RECOVERY
Full recovery requires both carbohydrate and protein.
Protein helps rebuild muscle.
Carbohydrate helps replenish glycogen, one of your body's fuel sources depleted during exercise.
Herbalife24 Rebuild Strength contains a combination of protein and carbohydrate for enhanced recovery.
THE METABOLIC WINDOW
Your body is primed to absorb nutrients immediately after a workout, so it's best to consume recovery nutrition as soon as possible after you finish your workout – ideally within 30 minutes
EXAMPLES OF RECOVERY FOODS
Herbalife24 Rebuild Strength
Yogurt with fruit
A chicken burrito with rice and beans
A Formula 1 shake with milk and fruit
WEEK 3 VIDEO

See more details, on the 5k Training Schedule and Plan on facebook.