Category Archives:
DVD Workout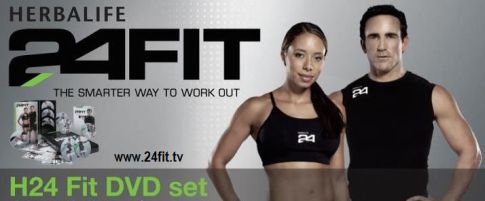 The lead instructors on the new H24 Fit DVD set are Samantha Clayton and Tom Holland:
Samantha Clayton is an Olympic athlete, fitness instructor, spokesmodel and mother of four. She is a certified personal trainer and uses her experience to help others reach their fitness goals.
Tom Holland is an elite endurance athlete and physiologist committed to helping people live a better life through fitness. Tom has run over 50 marathons, is a 19-time Ironman  triathlete and has won several natural body building awards.
This 24-week DVD workout program is led by top fitness experts and developed by Herbalife with the renowned physical therapist and performance specialist Robert Forster. This 12 DVD Set has been broken down into three distinct phases, each of which builds upon the progress you've made in the previous one.
Phase 1 – STABILITY
Prepares your body with low-intensity, light-impact training specifically designed to strengthen the muscles that keep joints in their correct, natural positions.
WEEKS 1–8
Spine and Pelvis Stabilization
Shoulder Stabilization
Total Body Integration
Metabolic 1
Phase 2 -STRENGTH
Takes your now properly aligned body and focuses on building muscle with variable low- to high-intensity exercises.
WEEKS 9–16
Spine and Pelvis Strength
Upper Body Strength
Total Body Strength
Metabolic 2
Phase 3 – POWER
Introduces high-intensity exercises to refine your new strength and increase your stamina, speed and efficiency
WEEKS 17–24
Core Power
Upper Body Power
Total Body Power
Metabolic 3