Tag Archives:
tom holland
Its summer and when it comes to exercise, there are some things to consider to stay safe in the heat. Fitness expert and iron man Tom Holland and lead instructor on the 24 Fit Workout shares tips for keeping cool and staying safe during a workout.
Fitness tips:
1. TIME: Try to exercise in the early morning or late afternoon if possible. Avoid running between 10 a.m. and 2 p.m.
2. CLOTHING: Wear light-colored, performance-wear wicking materials. Stay away from cotton and don't go shirtless.
3. HYDRATE: Drink plenty of water before, during and after a workout.
4. ADJUST YOUR GOALS: You simply cannot go as fast in the heat.
5. LISTEN TO YOUR BODY: Be mindful, if you stop sweating, that is a sign of trouble.
6. COOLING VEST: Elite athletes cool down before competition with cooling vests.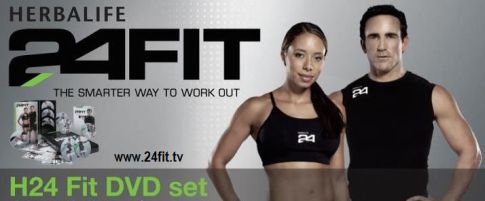 The lead instructors on the new H24 Fit DVD set are Samantha Clayton and Tom Holland:
Samantha Clayton is an Olympic athlete, fitness instructor, spokesmodel and mother of four. She is a certified personal trainer and uses her experience to help others reach their fitness goals.
Tom Holland is an elite endurance athlete and physiologist committed to helping people live a better life through fitness. Tom has run over 50 marathons, is a 19-time Ironman  triathlete and has won several natural body building awards.