Tag Archives:
endurance training
Two trainee teachers have finished an incredible charity challenge to run 12 marathons in 12 days. Tim, 24 and Tom 21, ran from Land's end to London and have raised over £13,000 from their Marathon effort.
They will donate the money to the Mersea Isalnd Festival Trust an Essex based charity which organises an annual camp for 400 disabled and able-bodied young people and adults.
They came up with the idea of Marathon man despite the fact neither of them have attempted long-distance running before.
It was almost a complete unknown when we started training and we've been on on a sharp learning curve for the past 18 months. Tim said running is more scientific and mechanical than we realised. When we started with 3 mile runs and felt exhausted at the end of them thought what we got ourselves into"
"It was actually a good thing that we had never run a marathon before beacuse we werent thinking that each day we would have to repeat one of the hardest things we had ever done."
The lads received help from experts at www.24fit.org,  they devised an endurance training programme for them.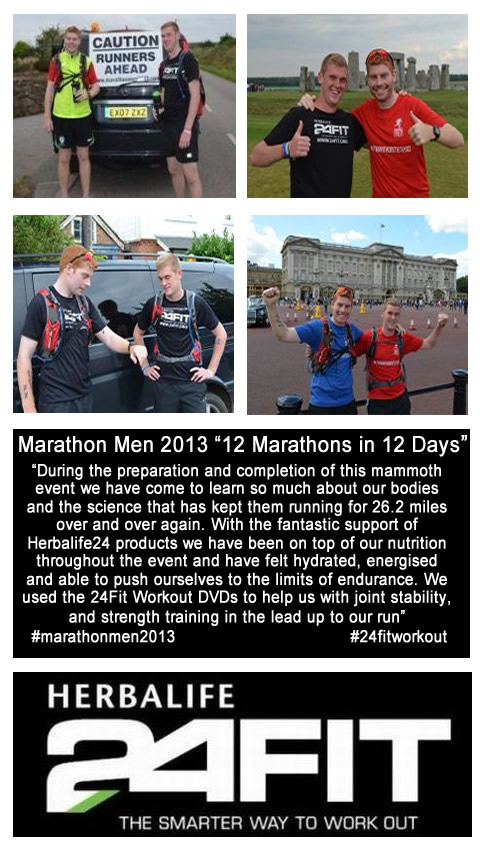 Preparing for an endurance event, get in touch for advice?  The package covers
1. Joint stability
2. Strength Training
3. Running schedules
4. Nutritional advice.
Are you planning to run a 5k for the first time? Or progressing from a 5k to a marathon? Or serious athlete that would benefit from VO2 analysis:
VO2  PRESCRIPTION
As your heart rate changes during exercise so too does your body's preferred energy source. Whether you are simply looking to improve your fitness, shed a few pounds or improve your cycling performance, proper heart rate training is essential to optimizing your training efforts. VO2 testing allows us to accurately determine your optimal "Fat Burning Zone" (the heart rate range at which your physiology predominantly burns fat for energy as opposed to carbohydrates). By training in this zone, you will gradually teach your body to prefer burning fats both during exercise and at rest, allowing you to achieve your goals far faster and with far greater efficiency, while burning unwanted body fat.