Preparing To Run A 5K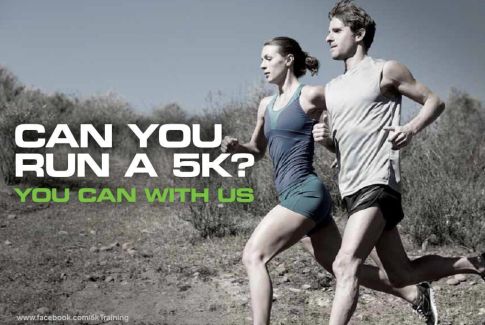 WHAT YOU NEED
Running shoes
Comfortable athletic clothes
A watch
SETTING EXPECTATIONS ENABLES SUCCESS
Be sure to stretch, warm up and cool down to minimize soreness
and reduce risk of injury
KEEP IT SIMPLE Equipment is no excuse
A PROPER WARM-UP FOR EVERY RUN
Can enhance the quality of each run
May reduce the risk of injury
Can increase your level of enjoyment by reducing minor aches, soreness, and tightness.
Min 5 min warm up, ideally 10 mins if new to running.
Then power walk before every run to ensure thoroughly warmed up.
FOCUS ON TECHNIQUE
Keep a slight forward lean
Foot strike with ball of your foot
Medium stride length – do not over stride
Keep you shoulders, face and hands relaxed
Keep an engaged, but not tight core
Keep your arms bent slightly, but not tight
A SOLID, NUTRITIONAL FOUNDATION
Proper, balanced nutrition is important for everyone but particularly for active people
Fresh fruits and vegetables should make up the foundation of your diet
Herbalife24 Formula 1 Sport or Formula 1 Healthy Meal are both a great way to help achieve balanced, healthy daily nutrition.
EATING TO FUEL YOUR RUNS
Try to eat a balance of complex carbohydrates, with a moderate amount of lean proteins and healthy fats, 2 to 3 hours before a workout.
HYDRATION
Proper hydration is important for general health and even more important for active people
Drink to thirst throughout the day and remember that as activity levels increase, fluid needs will increase as well, due to the rise in fluid loss through respiration and sweating
STAYING MOTIVATED
Log your runs in the 5K booklet or keep a journal
Train with a group whenever possible
Keep your expectations reasonable and acknowledge progress
Stay consistent and dedicated
Full Guide: http://www.facebook.com/5kTraining/app_190322544333196